MYVES Electric Hand Mixer - X1 | 5 Speed Transmission Hand Mixer

description
The Myves-X1 is the perfect handheld mixer as a kitchen companion for all your baking and cooking needs. Whether you're making cake, whipping cream, blending ingredients, or kneading dough. 
Key Features
5-speed settings effortlessly handle any mixing task
With 5 beater accessories to match your baking needs
The beater eject button, easily release accessories and is simple to clean
Cooling components automatically dissipate heat
Ergonomic design and lightweight body
Powerful motor blend ingredients with ease
-----
FREE SHIPPING
Myves products take about 3-7 business days of shipping. For more information, please click HERE.
FREE 14 DAYS RETURNS
We accept returns up to 14 days after delivery. For more information, please click HERE.
*This item is ONLY AVAILABLE for the US region. 
What's in the Box?
Mixer Host - 1 Unit
Accessory - Optimus Beater - 2 Unit
Accessory - Pro Whisk - 1 Unit
Accessory - Dough hook - 2 Unit
Manual Guide - 1 Copy



Specifications
| | |
| --- | --- |
| Product name | Electric Hand Mixer |
| Product model | X1 |
| Net product weight (Host) | 998g |
| Accessory - (2) Optimus beaters  | 97.5g |
| Accessory - (1) Pro whisk  | 28.5g |
| Accessory - (2) Dough hooks  | 59.5g |
| Voltage | 120V |
| Power | 150W |
| Product size | 180mm x 76mm x 135mm |


Mix Your Way to a Better Day
Make baking and cooking a breeze with the X1. With its powerful motor and versatile attachments, you can effortlessly mix ingredients to perfection.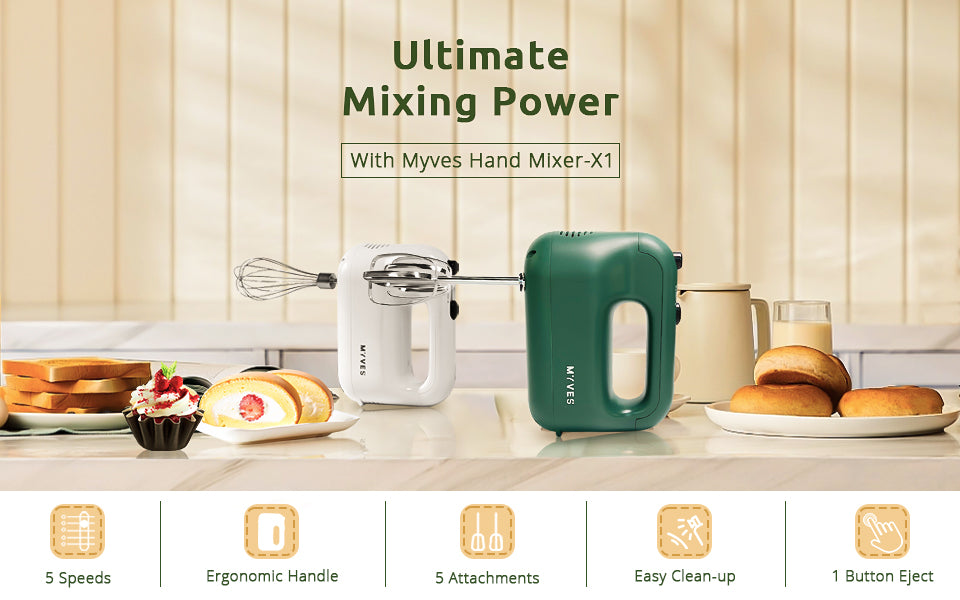 5 Speeds to Match the Task at Hand
The varying speed options allow for versatility in tackling different tasks and recipes, from whipping cream to kneading dough.

With the X1's 5-speed options, you can easily adjust the power to match the task at hand, resulting in consistent and high-quality baked goods.
Get Creative with Versatile Attachments
You can master any recipe with a range of attachments. · Two Optimus Beaters are perfect for mixing ingredients such as eggs, cream, and cake batter.
· Two Dough hooks are ideal for kneading bread dough and making heavy cookie dough.
· The Pro Whisk is great for whipping cream, egg whites, and other ingredients that require a light and airy texture.
Design for Functionality
The ergonomic and clean design makes X1 both easy to use and handle, even for extended periods.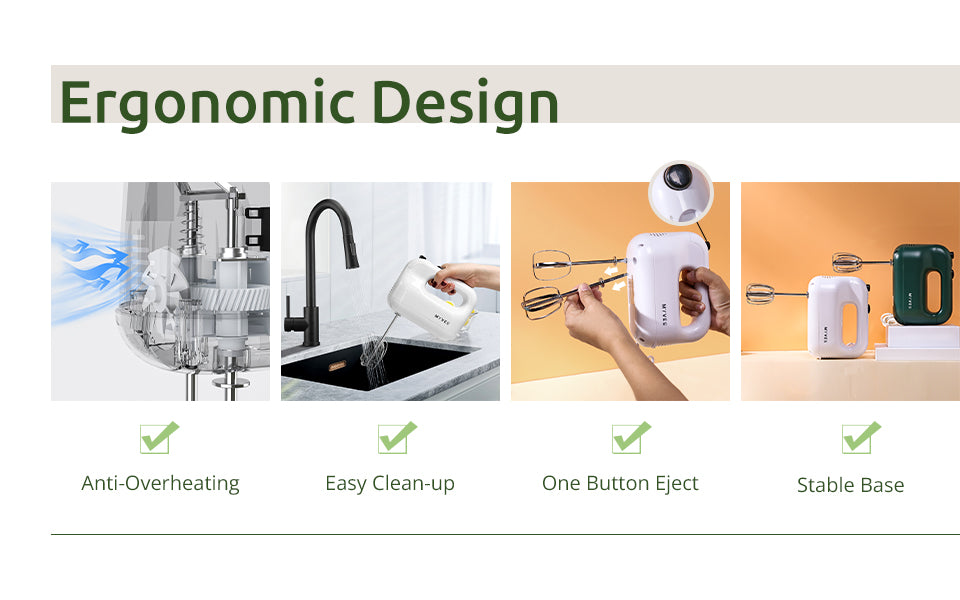 More Details
We committed to a 12-month warranty included with Myves-X1.